sun shade prefab metal frame carport garage kit is the ideal way to provide coverage for your vehicles and protection against damage from the sun, rain, snow, and wind. At you'll find that we have several different metal carport styles available for purchase, including our regular style carport.
Three type can be choose :Regular style steel carport 、A frame style steel carport/ boxed eave steel carport、Vertical Roof Style Steel Carports

Regular style steel carport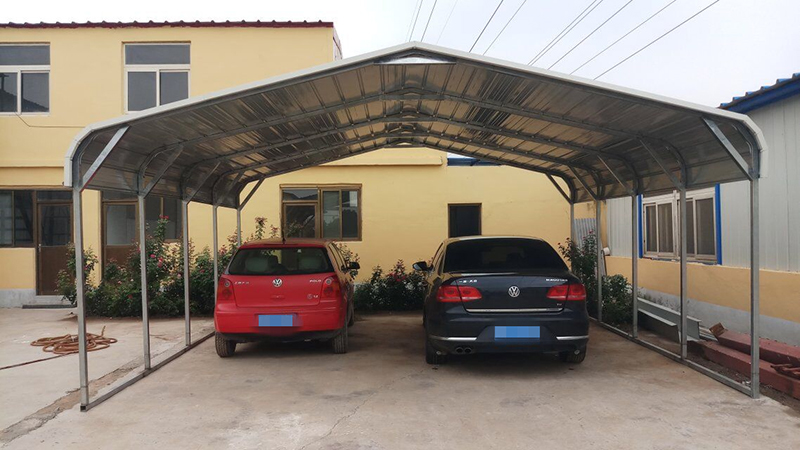 regular carports feature a horizontal application of the panels with rounded eaves so sides can extend down to the ground in an unbroken pattern if that's what you want.regular style steel carport is most economical option is best for areas that don't experience heavy winds or lots of rain.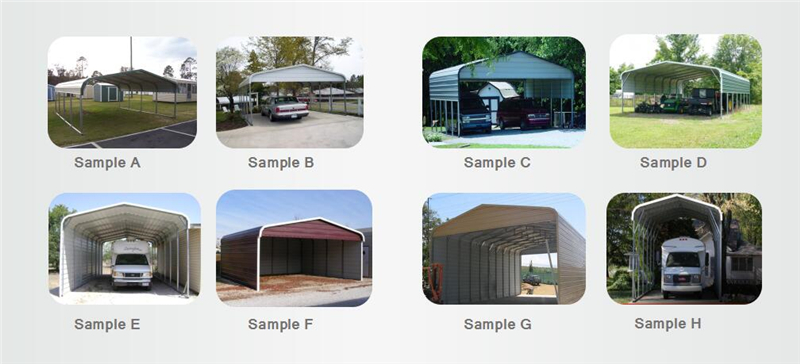 A frame style steel carport/ boxed eave steel carport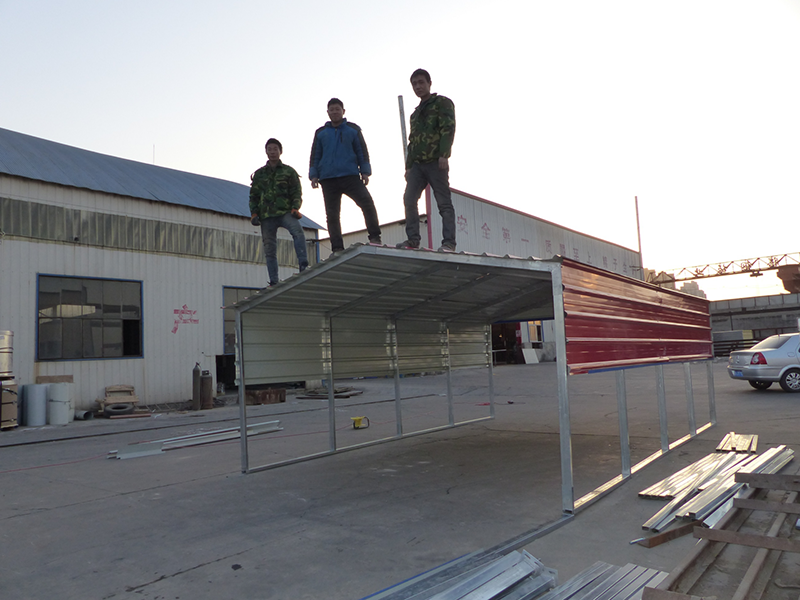 boxed eave carports feature a horizontal application of the panels with A frame roof .
A gable end panel is available for this model, as are additional side panels for one or both sides for better protection. This image shows one optional side panel on each side.
This steel carport must have the various trims such as ridge cap, gable and eave trim which adds to the installation and the cost but its looks blend well in residential settings.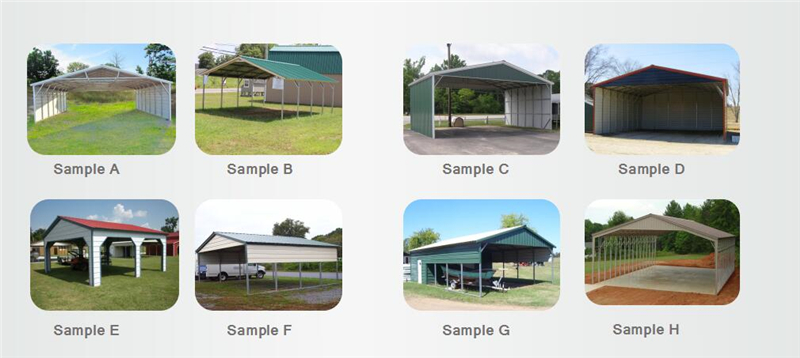 Vertical Roof Style Steel Carports
The Vertical Roof Style Steel carport's main distinction from the Regular style is the vertical panel application which makes it the most compatible for shedding snow. When customers are in an area that exceeds a 45 psf snow load, we recommend the Vertical Roof Style carport.This style carport more suitable for large span steel carport.
Vertical Roof Style Steel Carports are the best storage option to protect your automobiles from heavy rains, snow and hail.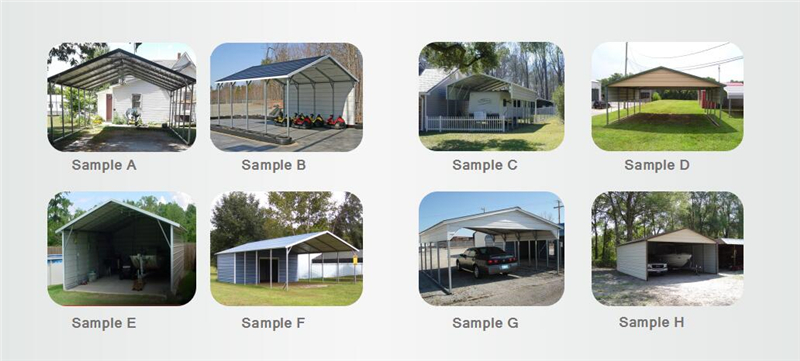 Vertical Roof vs. Boxed Eave: What's the Difference?
The main difference between boxed-eave carports and vertical-roof carports is that on the boxed-eave carports, the roof sheeting runs horizontal, length to length, and on vertical-roof carports, the roof sheeting runs vertical, or up and down, which helps the snow slide off. But no matter which roof design you choose, you won't have to worry about getting up early to remove snow from your car in inclement weather. Our boxed-eave carports offer your vehicles protection from harsh elements and may help to prolong the life of your vehicle.
Steel frame system
Our steel carport are use galvanized steel tube as the whole structure, which is not only strong and durable, but also more convenient for assembly and disassembly . It means you won't have cumbersome I-beams to deal with that require forklifts or cranes.In addition, this steel frame will saving tremendously on your concrete foundation requirements
cover system
Our steel carport is use corrugated steel sheet.
Color Choose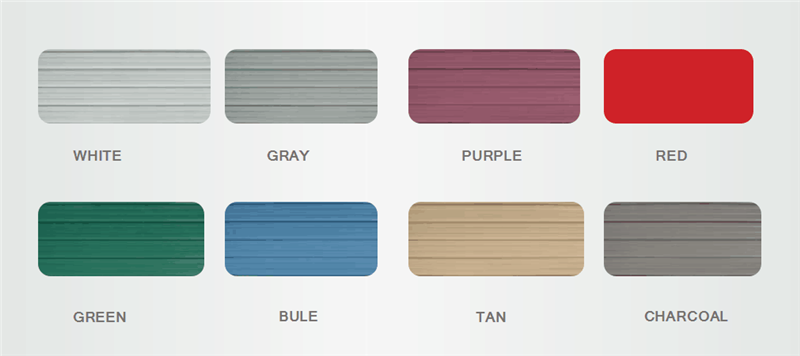 Professional design
If you want engineered plans for your metal building, carport, or other metal structure, we can help you.
Sanhe steel structure has very experienced designers and engineers, can meet all the requirements,So please don't hesitate to tell us your requirements and ideas.
Installation & construction
They are designed to use a minimum of components, most of them modular and prefabricated. They are easirely assembled by people without experience using common tools. We make them that way for the do-it-yourselfer and also for the professional installers throughout the people who perform installations for our customers.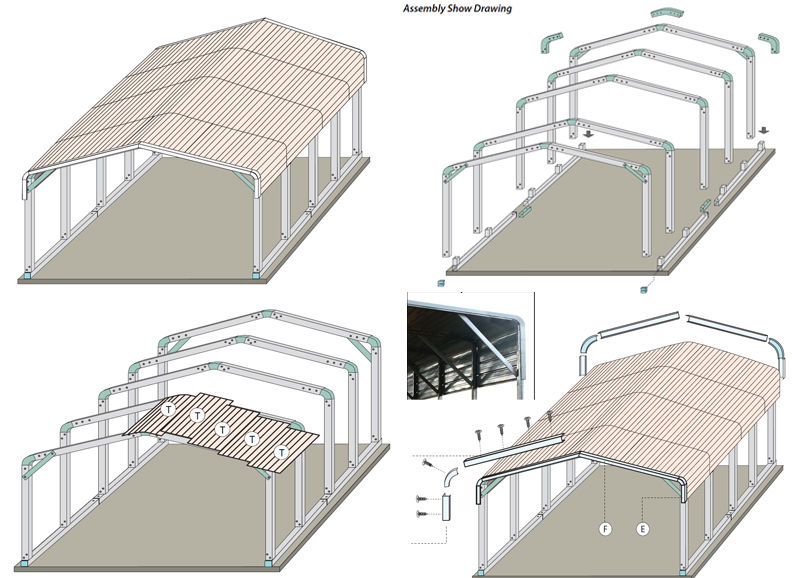 Company Introduction
"Shijiazhuang Sanhe Steel structure Co., LTD." is professional manufacturer who is devoted to steel structure construction. We provide the whole set of services include making construction designs, producing products and installation.
We are located in Shijiazhuang city, Hebei province.
There are 8 production lines of steel structure and 26 production lines of corrugated steel sheet.
The annual output of steel structure components is 8000 tons;
The annual output of color steel sheet is 7000 tons;
The annual output of galvanized steel sheet is 2000tons.
Which generates an annual revenue of RMB60,000,000 and the number is increasing year by year !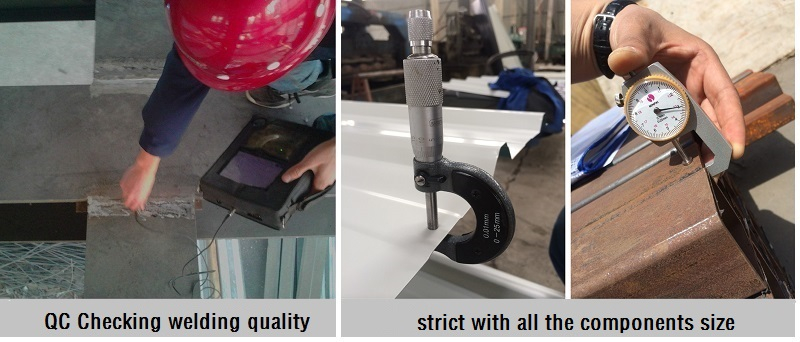 Our Certification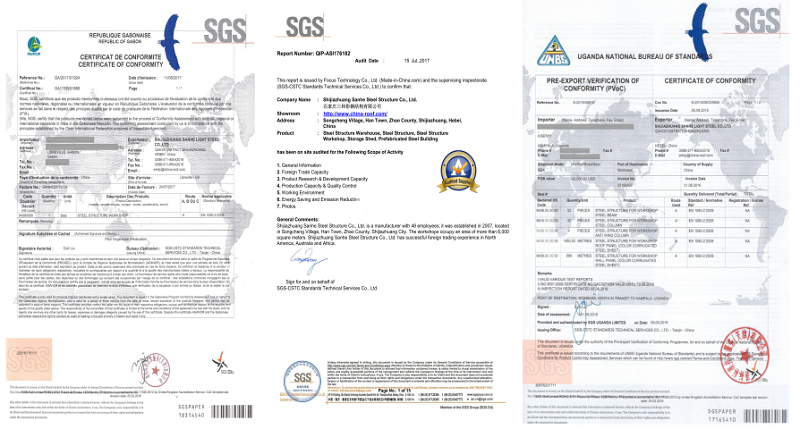 Our customers


Strength Makes the Future!!!